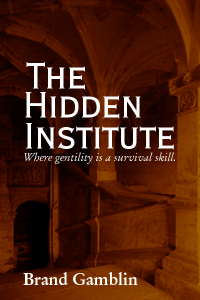 Synopsis
Rising above your station can be deadly.
Cliffy is a child born on the streets of a Neo-Victorian world. Witnesses to a murder, he blackmails a nobleman, receiving a unique bribe. In exchange for his silence, the nobleman introduces him to the Malcolm Rutherford Holden Institute of Regentrification. There, Cliffy learns to walk, talk, and act like a nobleman, so that he may infiltrate high society. But that type of fraud is punishable by death, and when Cliffy uncovers a plot to assassinate a head of state, he's hunted by more than just the aristocracy.
Royal intrigue, daring escapes, sub-dermal machines, and bear polo. A grand adventure in a not-so-distant world.
AWARDS AND RECOGNITION
2011 Parsec Award Finalist for Best Speculative Fiction Story (Novella Form)
Cover Art
The cover art for The Hidden Institute is from a Creative Commons image. The final cover was provided by Nathan Lowell.
Product Details
File Size: 338 KB
Print Length: 258 pages
Simultaneous Device Usage: Unlimited
Publisher: Big C Productions; 1 edition (March 8, 2011)
Sold by: Amazon Digital Services
Language: English
ASIN: B004R9QUQ8
Text-to-Speech: Enabled 
Lending: Enabled
[button link="http://www.amazon.com/gp/product/B004R9QUQ8/ref=as_li_ss_tl?ie=UTF8&tag=httpallisondc-20&linkCode=as2&camp=1789&creative=390957&creativeASIN=B004R9QUQ8″ type="big" color="orange" newwindow="yes"] Buy on Amazon![/button]