A short story collection by Brand Gamblin. The Danny is unstuck, bouncing between dimensions and viewing "cusps" of powerful moments and decisions in other's lives.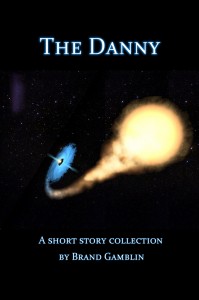 Synopsis
The Danny remembers being human once, and searches through other worlds, looking for the way home. Along the way, it encounters zombies, time travelers, nanites, alien invasion, mechanized infantry, and magical heroes.
The Danny is a collection of seven short stories, some previously published in Flagship magazine. Others have never been seen before. There are stories of high fantasy and low, as well as hardcore and contemporary sci-fi. The perfect book for short shots of intense storytelling.
Reviews
Transcendent! April 4, 2011 By Nostradamus
Format:Kindle Edition|Amazon Verified Purchase
This book isn't even available yet and it's already one of the best books I've never read! Brand is a genius! This book has everything you never knew you wanted! Wizard Hats! Molecular Robots! Sexy Aliens! If you don't buy this book, you will unknowingly regret it for all eternity! Also, my infinite thanks to Amazon for letting me review something that isn't available yet! Allons-y!

Looking For Something Different?, December 2, 2011 By Paulette Jaxton
This review is from: The Danny (Kindle Edition)
Author Brand Gamblin presents an eclectic anthology of seven short stories in "The Danny". The tales range widely from zombie horror, to epic fantasy, to time travel and, rather than presenting a single unified theme, the stories are tied together with a clever device that provides an interesting story of its own.

My favorite of the shorts was "Sandys", a time travel tale that looks at a side of time paradox that's usually ignored. What would people in the past really think about time tourists from the future? If an older version of you suddenly walked up and started giving you advise, would you think them crazy but listen to them anyway, or would you resent their interference?
Purchase The Danny by Brand Gamblin at any of these fine retailers