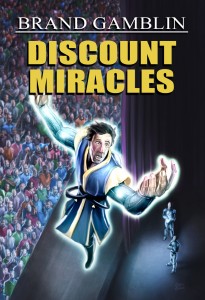 Synopsis
The crew of the space salvage ship JNE-0518 (the Jenny) have crashed on a planet that has lost its link to civilization. Surrounded by kindoms stuck in the dark ages, the crew decides to hire themselves out as wizards, available to make any prophecy come true.
But the latest job goes bad when they find themselves transporting a deified prince. Can the team get away from two different nations before they are caught and burned as royal kidnappers and witches? Even if they can escape the two armies, can they escape the iron grip of prophecy itself?
Editing and Cover Art
Edited by Deborah Bancroft, Discount Miracles is one of the most polished of Brand Gamblin's new releases. Securing her assistance was one of the major goals for this particular work, and Brand is thrilled with the way this particular piece turned out.
Cheyenne Wright, a Nebular award-winning artist, has produced another spectacular cover for Brand's books. The first of course being the acclaimed cover of Brand's Tumbler novel (2012). The cover art for this piece was inspired by one of the major scenes from the book and was paid for through the generous donations of Brand's KickStarter supporters.
Product Details
Paperback: 206 pages
Publisher: CreateSpace (May 18, 2012)
Language: English
ISBN-10: 1477495908
ISBN-13: 978-1477495902
Product Dimensions: 9 x 6 x 0.5 inches
Shipping Weight: 13.1 ounces
[button link="http://www.amazon.com/gp/product/B0084DWBVG/ref=as_li_ss_tl?ie=UTF8&tag=httpallisondc-20&linkCode=as2&camp=1789&creative=390957&creativeASIN=B0084DWBVG" type="big" color="orange" newwindow="yes"] Get it on Amazon![/button]